Toxie & Troma Team – Guerrilla Performance Union Square, NYC 3pm, Thursday May 21st – Secret Video Leaked!!!
posted in
Events
,
News
|
Lloyd Kaufman, President of Troma and creator of the Toxic Avenger, apologizes for the leaking of the secret video announcing a performance-rally this Thursday, May 21st, 3 pm, at Union Square, New York, NY.
Mr. Kaufman stated "We don't want to even mention that this Union Square event is to raise awareness of the Return to Nuke'Em High: Volume 2 Kickstarter campaign. That would be crass, bourgeois and capitalistic." However the Toxic Avenger and the World famous Tromettes in small clothing have been confirmed.

Join TOXIE and the Troma Team and help #SaveNukeEmHigh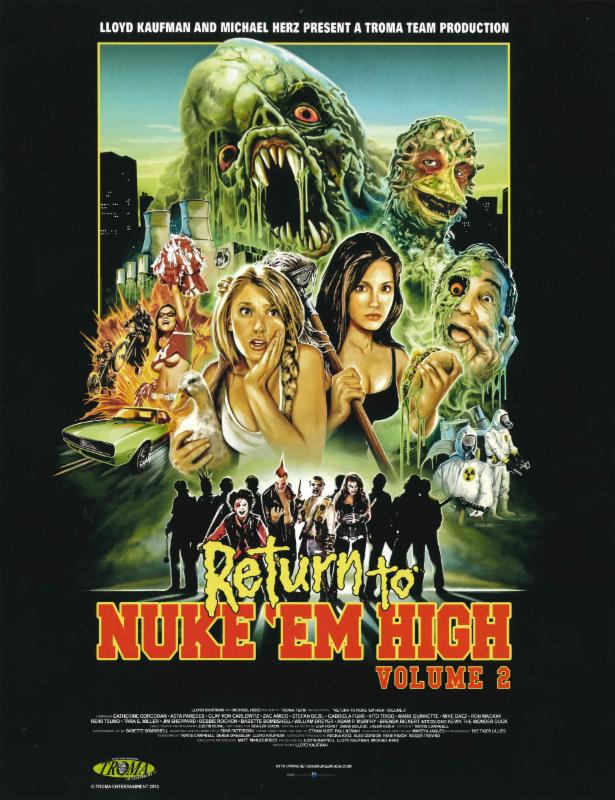 Return to Nuke'Em High: Volume 2 is one of Troma's most ambitious projects. For more details on the official Kickstarter, click here.
For more info, please consult the Return to Nuke'Em High: Volume 2 KickStarter page and the Return to Nuke'Em High: Volume 1 & 2 Facebook page.
For more info on Lloyd Kaufman and the Troma Team, fans can 'Like' Troma's Facebook page.
---
'Like' and 'Follow' Troma online at
www.facebook.com/troma.entertainment and www.twitter.com/lloydkaufman!
'Subscribe' to Tromamovies YouTube Channel for hundreds of full length films, cartoons and shorts!
---